Travel Registered Nurse | Heber City, Utah | LTC | 2021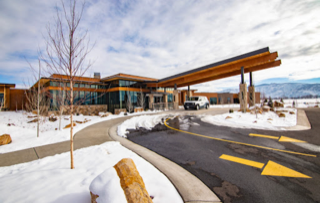 Specialties
Long Term Care
LTC travel nurses
nurses who work in long-term care, LTC nursing jobs, LTC nurse jobs
Long-Term Care (LTC) Travel Nurses
Registered nurses who are in charge of caring for patients who require extended medical care in a long-term care facility are referred to as long-term care (LTC) nurses. In addition to providing basic nursing care, LTC travel nurses administer medications to patients, ensure that patients receive the appropriate and safe medical care they need, and coordinate patient care.
Long-term care nurses work with patients who suffer from chronic physical and/or mental conditions. These patients are primarily in the geriatric age group. Practice settings generally include skilled nursing facilities and nursing homes.
Nurses who provide care in the long-term setting can also work at another type of facility which is known as a long-term acute care hospital (LTACHs). These facilities specialize in the treatment of patients who suffer from very serious medical conditions. It's a complex situation that these patients are in, in which they still require ongoing care, but no longer require or qualify for hospital care which provides intensive care and diagnostic services.
On average, patients stay at an LTACH facility for 30 days at a time, but some patients require much longer lengths of stay. Patients who are discharged from a hospital but require more intensive care than what is provided at home or skilled nursing facilities often end up in LTACHs. There is a wide range of patients who go to these types of facilities, including those who are recovering from a very severe injury or accident, those who are living with disabilities, people suffering from progressive illnesses, such as multiple sclerosis and Alzheimer's disease, and people who suffer from chronic health conditions such as coronary artery disease and obesity.
Nurses who work in both LTACHs and LTCs are responsible for providing the day-to-day needs of the patient, the operation of the medical facility, supervision of staff, delegation of tasks to unlicensed personnel, assessment of medical care progress and outcomes, and the delivery of excellent customer service to patients and family members.
In order to be successful as an LTC nurse, one must exercise a high degree of patience, as it can be quite challenging to work with patients who have these medical conditions and chronic illnesses. If you are a nurse working at an LTACH, advanced and often intensive nursing skills are required because these facilities can have patients who are on ventilators, feeding tubes, continuous cardiac monitoring, and other intensive medical care regimens.
Job Skills / Requirements:
Valid BLS from the American Heart Association
A valid professional license within the state of practice
Advanced Cardiac Life Support (ACLS) credentialing through the American Heart Association is recommended and may be required for specific registered nurses and travel nurse positions
Other specialty-related certifications are preferred and may be required for specific positions
Proof of right to work in the United States
Experience as a long-term care nurse
LTC Travel Nurse Salary and Job Outlook
There has never been a higher demand for nurses who work in long-term care. From the various skilled nursing centers to nursing homes and LTACHs across the country, LTC nurses are needed to help care for these patients on a long-term basis.
Working as an LTC nurse is highly rewarding because patients are at these facilities for extended periods of time, which allows you to develop close bonds with the patients and their families. LTC travel nurse pay is competitive, and the precise salary you can earn will depend on your individual skills, certifications, and experience as well as the facility and its geographical location.
Elite Specialty Staffing also offers referral bonuses and other incentives that can further increase pay. LTC travel nurses who work with Elite Specialty Staffing can choose to take free, private, luxurious housing, or a generous housing subsidy. When you work as an LTC travel nurse with Elite Specialty Staffing, you will gain all the lucrative travel nursing benefits we offer. Apply today!
Facility
travel nursing jobs in Utah
Utah jobs, travel nurses in Utah, Utah travel nurses
Travel Nursing Jobs in Utah
Mountains. Quiet towns. A bustling capital. Utah is certainly a state that has a lot to offer adventurers and sightseers alike. In the springtime, you will find the flowers are beautiful in full bloom. In the wintertime, travel nurses in Utah will see ski slopes loaded with fresh powdery snowfall. Truly no matter what time of year it is, Utah travel nurses will always find something exciting to do in the "Beehive State."
Populations throughout the regions of Utah often fluctuate by season, so the availability of prime travel nursing jobs in Utah will often depend on the time of year you are searching for an assignment. However, there are frequently travel nursing jobs available in Utah, so it should not be too difficult to find a travel nursing assignment in this natural wonderland. In general, Utah jobs are plentiful and the economy does fairly well in this state.
There are plenty of sights to see and things to do in Utah. You must visit the beloved Park City, which is one of the most popular towns in the state. Of course, the 2002 Winter Olympic Games were held in Salt Lake City, but Park City was home to many of the events such as ski jumping and alpine skiing. The Utah Olympic Park in Park City is open to the public and filled with different types of sporting activities in the summer and winter months. Furthermore, do not miss out on the quaint shopping and unique restaurants you will find lining Park City's Main Street.
There is another resort town travel nurses in Utah don't want to miss out on, and that is St. George. The winter in this part of Utah is relatively mild which makes the nearby Zion National Park a great place to visit year-round. There are unique tour offerings in St. George, including horseback riding and ATV tours.
If you're working a travel nursing job in Utah and you want to catch some amazing photos to remember your trip, you will have plenty of opportunities to do so when you visit Bryce Canyon National Park and Arches National Park. It's at these two destinations that you will see some of the most incredible rock formations in the United States. You should take your time and do more than capturing photos while you're at these parks and take advantage of the amazing hiking experiences as well.
Resources for UtahTravel Nurses
If you are considering taking a travel nursing job in Utah, be sure that all your registered nursing licenses and credentials are up to date. Check out the Utah Board of Nursing's website for further information about the nursing regulations in the state of Utah.
Work with Elite Specialty Staffing to Enjoy Lucrative Travel Nursing Benefits
High Pay and Bonuses
Medical, Dental and Vision Insurance
Generous Housing Allowance
Tax Advantage Plan
Weekly Payroll Deposit
Free Online CEUs
Traveler Rewards and Discounts
Travel and Licensure Reimbursements